It isn't often that we get to do whatever we want whenever we want. 40 hours each week are consumed by work, another 10 for the commute, a couple for the gym, a few dozen more for housekeeping and errands, and it often seems like the rest are used when I fall – completely exhausted – into bed just to do it all over again the next week.

This week, however, I went on vacation. Not any old vacation, but a trip totally by myself. I didn't have to answer to anyone but me. No bosses, no boyfriends, no colleagues, no parents. It's the first time I've ever traveled by myself, and I must say that I feel relaxed in a way that I'm not when I travel with others.

Don't get me wrong – I love traveling with people. It's wonderful to experience all the world has to offer with the people closest to you. I wouldn't trade my adventures with family and friends for anything, but I also underestimated how much fun traveling alone could be. When I booked my trip I needed a break; work was getting a little stressful, home wasn't a restful place to be, and I had a growing list of things I wanted to do for me that never got any shorter since it was always trumped by staff meetings, oil changes, and laundry.

To get away from it all I ended up in New York City. Since this vacation was to be as stress-free and rejuvenating as possible I didn't even want to bother with driving or taking a bus; I booked a flight straight to NYC from Boston and never looked back. An hour on the plane and three days and nights in a swanky hotel room near Times Square turned out to be exactly what the doctor ordered.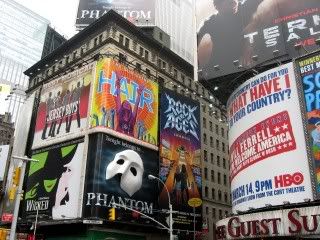 I did all sorts of things that no one would appreciate as much as I did, and that's the best thing about traveling alone – you don't have to please anyone but yourself! I stood in line at the TKTS booth to score discounted tickets to Broadway shows, then parked myself in various musical theatres three times in just over 24 hours. I had breakfast in bed. I drank over-priced wine and ate pretzels from street vendors. I wrote for my blogs and read young adult novels (a favorite guilty pleasure). I even trotted my traveling gnome all over the city and took her picture in several hotspots. I didn't follow an itinerary, just followed my heart (and directions to the Cupcake Cafe).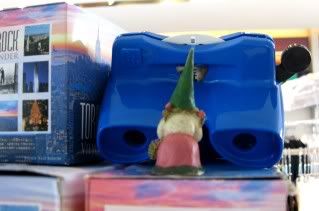 Bottom line, there's nothing that can beat a soft bed in a posh hotel room and three days of doing exactly what you want when you want. No one wants too much of a good thing, but I think anyone would benefit from a week of paying attention to herself and doing whatever she wants – bosses, boyfriends, and busy-bodies be damned. It's great to be away and it'll be great to go home, but I want to remember what fun I've had while I was gone. Maybe I can try to incorporate a little bit more "me time" in the real world too. Hey, there are 168 hours every week; the least I can do is try to reserve a few for me. (Besides, an hour at home with my scrapbook supplies is cheaper than flying off to the city that never sleeps!)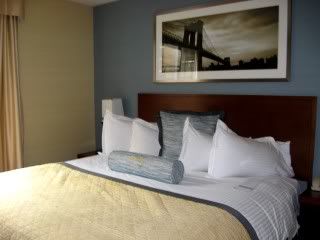 To traveling alone and to living life to the fullest! May each of us be like Willa Cather, who said "I shall not die of a cold. I shall die of having lived." Cheers!